About the NSOCC
The annual North Sea Operators' Claims Conference draws together Shipowners, P&I clubs, marine surveyors, shipping lawyers and other experts, all with an interest in marine insurance claims matters, operating on the North Sea, the Baltic or Irish Sea.
At this friendly, welcoming event, competition is set aside with the aim of sharing ideas and experience and learning from each other in order to improve our ability to manage claims more effectively.
The two-day conference is packed with informative presentations and discussions.
There are also ample opportunities to talk to fellow members more informally, to get to know people with similar interests and to explore the culture of the host country.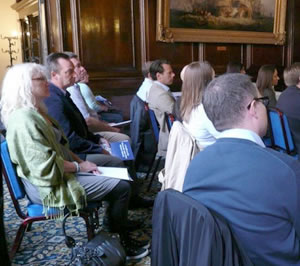 Photos: Sanchez-Marin/NSOCC
Conference aims and scope
The primary aim of the NSOCC is to provide an annual forum for North Sea, Baltic and Irish Sea operators to discuss matters of common interest.
The NSOCC tackles a wide range of industry issues with the general focus on claims matters, for example:
Standard trading conditions (North Sea Standard Conditions of Carriage)
Cargo claims
Passenger claims
Ship design/building claims
Navigation Handling practice for hazardous goods (Blue Card and the Yellow Card).
The NSOCC develops and promotes best practice relating to claims and the event has a strong educational element through the presentation of papers by delegates and other qualified speakers.
Who can attend?
This is principally an event for Shipowners operating a service on the North Sea, the Baltic or Irish Sea.
Other attendees provide specialist support for our sector, including insurance, legal and surveying expertise.
All delegates are required to be active in our business sector and attendance is by invitation. Please use the form on our 'Contact us' page if you feel that the NSOCC is relevant to you and you are interested in finding out more.
A warm welcome is also extended to past delegates who have retired from active business.
Benefits
NSOCC attendees are able to:
Discuss and develop best practices
Share experience
Meet other people operating in our sector
Gain CPD points
Visit different countries and experience different cultures
Cost
Each year the NSOCC host and committee members volunteer their time to organise the event.
This is a 'not for profit' conference and we try to limit attendance costs. The cost usually covers administration, accommodation (if required), food, the conference itself and a local tour.
Sponsorship
In addition to the valued commitment of our conference host, the NSOCC is also supported by kind member organisations which sponsor elements of the programme. The NSOCC committee would like to thank them all for their generosity.
If your organisation would be willing to sponsor an aspect of a forthcoming conference please use the Contact Us page to let us know and we will be in touch to discuss the form your sponsorship might take.
NSOCC History
The North Sea Operators' Claims Conference has its origins in a meeting of a number of Scandinavian shipping lines and some of their insurers in Kungalv, Sweden, on 30 March 1976. The architect of the conference, and founder member, was Max Slotte, a lawyer working, in those days, for Tor Line. The conference was his brainchild and the other founder members were enrolled having been approached by Max Slotte.
This first meeting was called to try to establish rules for the settlement of claims in respect of 'Articles of Transport' and to attempt to introduce uniformity in documentation between all operators on the North Sea, thus aiding and simplifying both insurance contracts and claims handling.
The lines represented at this first meeting were: The Brostrom Group, Tor Line AB, Svea Line (Goteborg) AB, Roto Line/Wallhamn AB, Fred Olsen & Co and the Swedish Club.
From this first meeting in March 1976, a gathering also took place in October that year when additional participants were DFDS A/S, Ellerman Lines Ltd, AB Indemnitas, North Sea Ferries, Assuranceforeningen Gard, Assuranceforeningen Skuld & Wallhamn AB. A second conference followed in September 1977 and the NSOCC has taken place annually since, with the number of members growing gradually to around 37 today. 
For a more in depth history and to view a list of conferences, locations, hosts and highlights view our conference timeline.
Board
Directors
Rune Dybedal,
Chairman.
The North of England P&I Association Limited (Newcastle upon Tyne)
Martynas Jonkus,
Vicechairman.
AB DFDS SEAWAYS (Klaipëda)
Jens Mathiasen,
Member of the Board.
HFW (Copenhagen)
Conference Secretary
Aida Kleinitz Schultz, (Copenhagen)
NSOCC Administration
Andres Sanchez-Marin,
NSOCC Treasurer (Hamburg)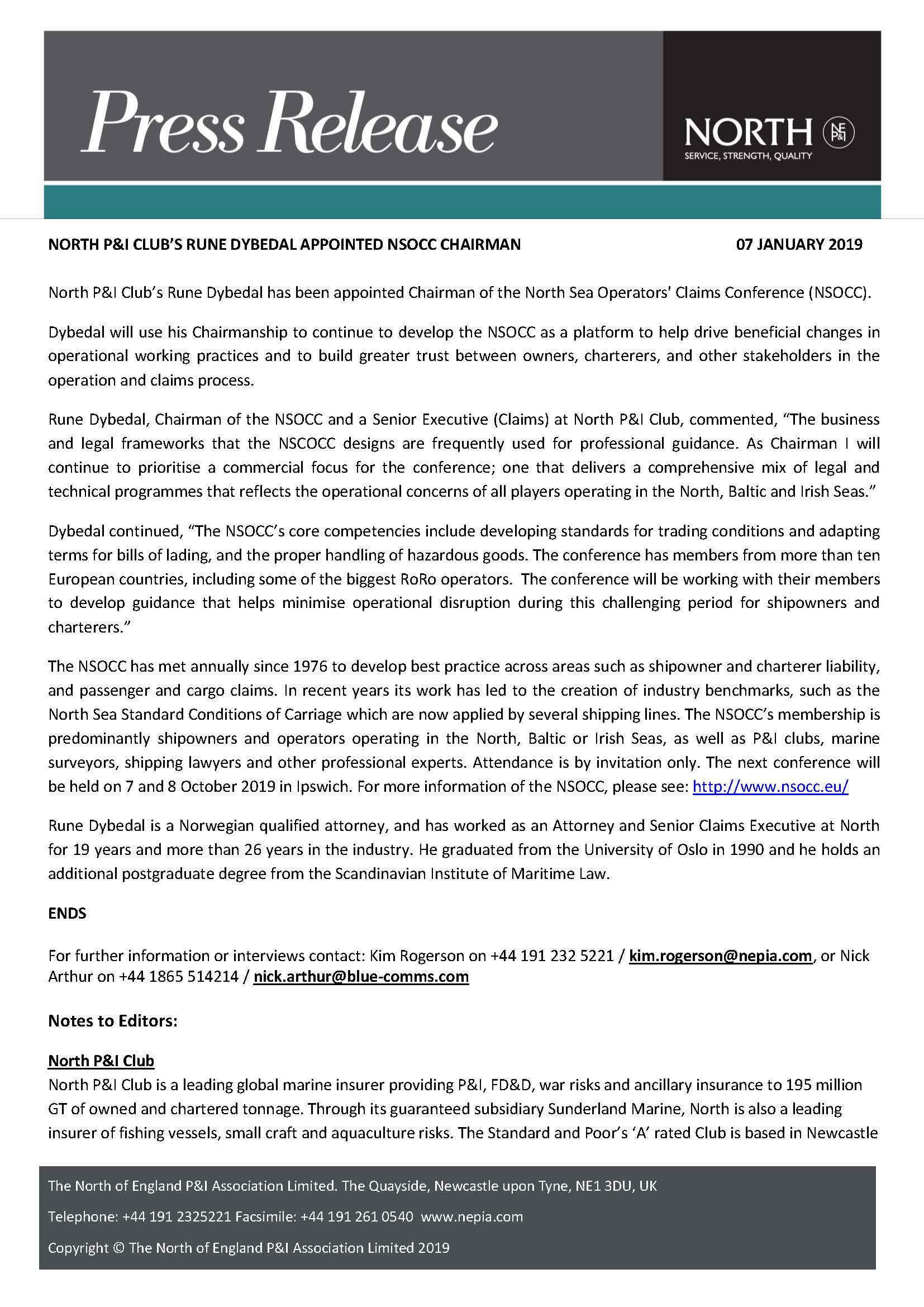 NEPIA Press Release. Rune Dybedal, Appointment as NSOCC Chairman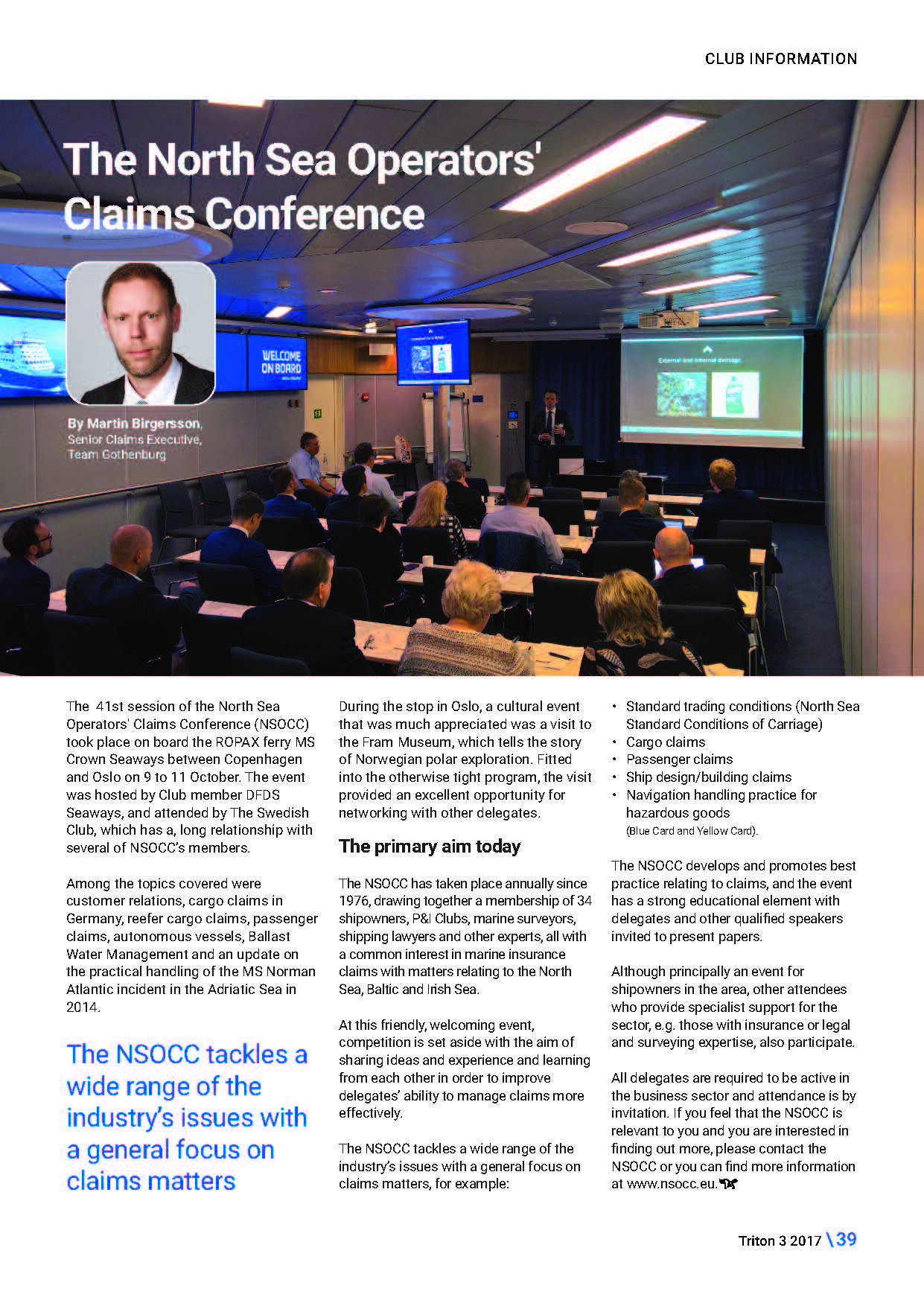 2017 NSOCC 41st Session, from The Swedish Club Triton 3 page 39
Our members
---
The membership of North Sea Operators' Claims Conference is chiefly made up of ship owners operating on the North Sea, the Baltic or Irish Sea.
Browse our Members
The history of the NSOCC
Explore our interactive timeline
The benefits of being part of the NSOCC are immeasurable, as a group the knowledge and experience is second to none.
---
Andy MacrowWest of England Insurance Services (Luxembourg) S.A.